ERICH PRATT, GUN OWNERS OF AMERICA
You may have already seen the news. But President Trump has nominated an anti-gunner to lead the ATF.
His name is Chuck Canterbury, and he is the president of the anti-gun Fraternal Order of Police.
Sadly, Canterbury has a long track record that should concern gun owners:
He's testified before Congress to support anti-gunners like Supreme Court Justice Sonia Sotomayor and Attorney General Eric Holder.
Under his watch, the FOP backed Congressional measures to expand the unconstitutional and failing NICS system — which is the same system where 95% of the initial denials are false positives.
Please email your U.S. Senators and urge them to reject the Canterbury nomination. GOA will be sending follow-up alerts when the Senate comes back in session. So stay tuned for additional updates.
Finally, I'm including some highlights from a prior alert (below). Unfortunately, some of the links were erroneous in the previous email, so they have been corrected here.
The feedback on the information below has been tremendous. And that's why all of us here at GOA are tremendously grateful for the vocal support of our members and activists.
Erich Pratt is Executive Director of Gun Owners of America
---
GOA helps sponsor training for over 800 women in Detroit
This past weekend, I traveled to Detroit, Michigan to support firearm instructor Rick Ector's annual training event for women. Rick and his team trained over 800 women in firearm safety and function.
I also got to speak to the women on how important it is to stand for right to self-defense. Attendees also got an exclusive pink and white GOA hat, which was a hit with the trainees! You can view more pictures of the event on GOA's Facebook page or my Twitter page.
Eight Attorneys General Join in Support of GOA's Kettler Case
GOA is pleased to have eight Attorneys General joining in support of our Kettler case! AGs from Arkansas, Idaho, Kansas, Louisiana, Montana, South Carolina, Texas, and Utah have asked the Supreme Court to review the case.
This case challenges the legitimacy of the National Firearms Act and protects a disabled veteran. News regarding SCOTUS granting certiorari in this case could come as early as next month. So stay tuned! You can support this case at the Kettler Legal Defense Fund.
GOA works to kill another red flag law
One of GOA's top priorities is defeating red flag gun grabs across the country.
In fact, within the past year, GOA personnel have traveled to several state capitals to speak in opposition to these red flag Gun Confiscation Orders.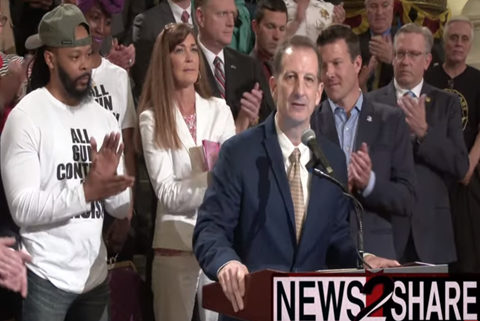 Earlier this month, I gave a stern warning to many Pennsylvania legislators about the dangers of passing these Gun Confiscation Orders.  One can view my speech in the state capitol here.
And now, our Texas State Director Rachel Malone reports that legislation to implement Gun Confiscation Orders in the Lone Star state is officially dead!
GOA will continue to mobilize our members across the country and update them with timely information when Gun Confiscation Orders are moving in their states.
GOA in the News and on Social Media